Floating Mounted Ball Valve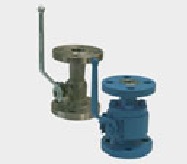 ●Size:
1/2"-10"
●Pressure rating:
Class 150 to Class300
●Materials:
WCB/WC6/WC9/LCC/CF8/CF8M/CF3/CF3M/A890-4A
●Specifications:
API 6D/API 608/BS 5351, 2-pc, Full/Reduced bore, Metal seat/soft seat.
●Design Feature:
Reliable Seat Seal

The design element of the double-beveled sealing ring has been adopted to reduce the friction between the ball and the sealing ring achieving lower operation torque. When the medium pressure is low, the ball has less surface area contacting the sealing rings, which introduces higher sealing pressure to ensure the sealing reliability. When the medium pressure gets higher, the contacting area between ball and sealing ring increases accordingly. Larger contact area reduces the sealing pressure to avoid the deformation of sealing ring.

Fire Safe Design

In case of fire, non-fireproof material for packing and seat will be burnt-out and considerable medium leakage may possibly cause the figures.

Anti-static Design

To prevent electrostatic charges from building up within the valve, an antistatic device is placed between the ball and the stem or between the stem and the valve body.